City and State of Residence / Ciudad y Estado de Residencia: Nipomo, CA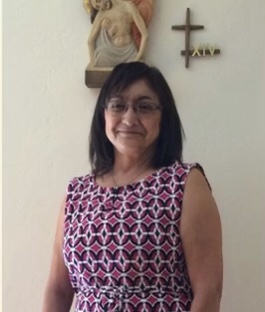 Brief description of your growing up years and family / Breve descripción de tus años de crecimiento y de tu familia:
I am 2nd of 5 daughters to Paul and Rita. I was born at Our Lady of Perpetual Help Santa Maria. I attended St Patrick's school, Arroyo Grande High and Allan Hancock College. I have two children, Jonathan and Jennifer. My husband, Cecil of 28 years has passed on now fifteen years. But God has blessed me again with Robert. God is Good!
Favorite story about a first—or early—ministry / Historia favorita sobre tu primer o temprano ministerio:
My first ministry was visiting the sick. Jody, my dear friend, taught me the beauty of this ministry. After communion she would sing a few songs for the residents of a home. She showed me that I could be a servant in bringing Jesus to them and putting a smile on their day. I am also in the Martha ministry. We serve the community at funeral receptions in relieving the families grief. When my mother passed we were greeted with beautiful tables with white roses as centerpiece's. An abundance of food made by the loving hands of the ministry women. I knew I wanted to be a part of this group to serve my community.
Why you entered religious life (Sisters) or chose the Franciscan community (Associates) / Por qué entraste en la vida religiosa (Hermanas) o elegiste la comunidad franciscana (Asociados):
I had only known of one religious community, Sisters of Mercy. Until I met Sister Jeanne I had no idea of different orders. Sister Jeanne opened the Franciscan doors and I was amazed and longed for this life. I had lost what my faith had meant to me years ago, or rather I thought I had. Tho Lord opened the door to the Franciscan's.
Where you live now and how you share your Franciscan values, lifestyle, and spirituality / Dónde vives ahora y cómo compartes tus valores franciscanos, estilo de vida y espiritualidad:
I still live in Santa Maria area. I work at Marian Hospital and in my work there I am able to live and share freely the Franciscan values.
What you most want others to know about you and the Franciscan community / Lo que más quieres que otros sepan sobre ti y la comunidad franciscana:
In working closely with Sr Jeanne I have been blessed to be a part of a new group of associates. It is an enriching experience in that I am learning more of Franciscan spirituality from each of the four pre-associates.
One of your favorite quotes from St. Francis, St. Clare, Mother Magdalen, or a Bible verse, poem, or other words you find inspiring / Una de tus citas favoritas de San Francisco, Santa Clara, la Madre Magdalena, o un verso de la Biblia, un poema u otras palabras que encuentres inspiradoras:
"Lord, show me the way!" I don't know if I read this or it just came to me. I started my work day at a new job, Marian hospital, by saying these words as I walked into the building. I had no idea as to what supplies were used for whatever. Into my second week I was working alone at night shift and I was in a panicked state. What if delayed and caused harm to a patient's needs. But the Lord did show me the way! Those words inspire me to never fear, my Shepherd takes care of me.