Tell us about your growing up years and family.

I was born in Berkeley and raised in Sacramento, the middle child of three sisters. When I was little, I once overheard a neighbor say to my mom, "She's the middle child—they often have problems." I remember thinking, "What kind of problems should I have?" Growing up, I attended Catholic schools, with Mercy Sisters in grade school and Franciscans, Mercy Sisters, and Notre Dame Sisters at St. Francis High School. Sisters Marianne Rasmussen and Barbara Dyer were some of my Franciscan teachers as well as Sr. Carole Marie Kelly, who has gone home to God. I graduated from high school in June 1965 and entered the Franciscans in August. The mid-to-late 60s were years of great societal changes: the Vietnam War, the Hippie and Women's liberation movements, and protests on college campuses. In the Church, the documents of Vatican II were either welcomed or resisted, depending on one's perspective. From my graduating class, there were twelve of us who entered different religious communities.

For the first three years, my theology courses were all provided at Mt. Alverno Convent in Redwood City. After that, I attended Sacramento State University—in full habit! There was a fundamentalist Christian group there called Campus Crusade for Christ. One of the members asked me directly, "Have you given your life to Christ?" I said, "YES," and he just walked away! I do remember walking on campus and being noticed. I am tall and another Franciscan sister attending SSU was very short, and my good friend who drove us to school every day was married and pregnant! Recalling the three of us, though we didn't feel awkward at the time, makes me smile today! I graduated from Sacramento State with a BA in English and a Minor in Spanish.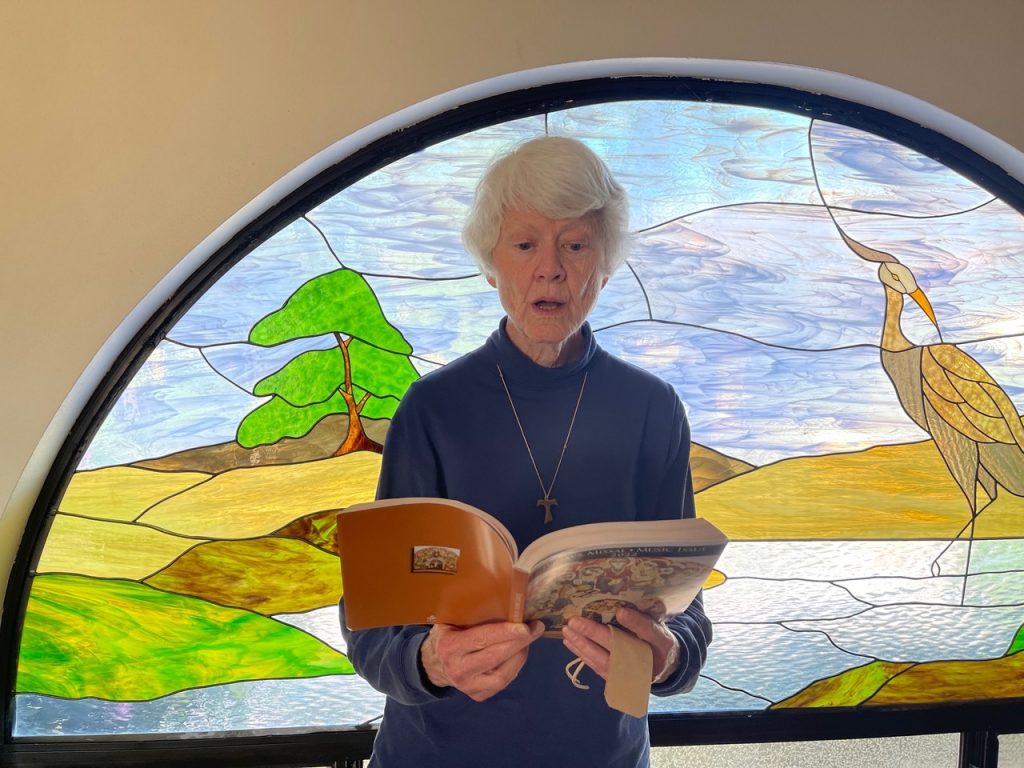 Please share a favorite story about your early community service.

My first assignment lasted three years. I taught eighth grade at St Mary's School in Santa Maria, California. We teachers had classrooms with 40 students, and no one had an aide. I was asked to return to St. Francis High School, my alma mater in Sacramento, where I taught for another three years. I also served as the Associate Director of Vocations for the diocese of Sacramento. We held weekend retreats and invited married couples, Brothers, and clergy from Berkeley to speak with our parishioners. We even started a permanent diaconate program. As the Associate Director, I organized the interviewing of candidates for the diaconate and their wives as well as securing the professors from the Franciscan and Jesuit Schools of Theology as presenters for the weekend training sessions, which I also got to attend. It was a wonderful twelve years. After this, I spent four years as the Vocation Director in the Archdiocese of San Francisco and 33 years as a pastoral associate at Mission Dolores, Good Shepherd, and St. Robert's parishes in the archdiocese of San Francisco. I helped to organize everyone, and everything needed for the Masses, reached out to those in need, coordinated the religious instruction for those coming into the Church or returning from a time away, and supported anything else that was needed. I am now retired and hope to renew my Spanish fluency so that I can help in some capacity as a volunteer at Marian Medical Center, near our community in Arroyo Grande.

Why did you decide to become a sister?

There was a climate of change during my high school years, with much discussion and focus on Vatican II. One Sunday, our parish priest announced that he was facing us now, but he couldn't tell us why. It was an interesting time, thought-provoking and exciting. Sister Carole Marie made scripture classes fun. She actually put us in the boat with Jesus! I really resonated with the life of St. Francis and knew that I wanted to spend my life being of service. I was drawn to the Sisters of St Francis of Penance and Christian Charity by their spirit and the fact that their individuality shone through!

How do you share your Franciscan values and spirituality now?

Our community, called Visitation, is comprised of five of us. Sister Maureen Sinnott and I moved to Arroyo Grande from San Bruno recently. Sisters Jeanne Rollins, Susan Blomstad, and Norberta Villaseñor preceded us. It is on our daily walks through our diverse and eclectic neighborhood that we have come to know our neighbors. We share our veggies (bounty direct from the local fields), and they help us out by connecting our electronics! It's been fun getting to know them and we hope they have enjoyed meeting us. I have been blessed many times over! I've been in the Franciscan community for 56 years and I thank God for all the blessings in my life—and I stay open for whatever the Spirit has in mind for me in the future.

What would you like us to know about being a Franciscan?

I would hope that the Church would change enough through the Synodal process that Pope Francis has initiated so that everyone would understand that he or she has a gift to give to the world! We sisters are not the only ones to be committed to following a call from God to be of service. We aren't holier or more talented; everyone has something to share. Francis, Clare and Magdalen Damen, a poor woman from the Netherlands who founded our particular Franciscan community, were people of prayer and service and their example inspired other people to follow them, each according to their abilities and the needs of those around them.

Please share a favorite quote or verse.

Mother Magdalen: "God will Provide." St. Francis: "Most High, glorious God, bring light to the darkness of my heart. Give me right faith, certain hope, and perfect charity. Lord, give me insight and wisdom so I might always discern your holy and true will." Jeremiah 1:6-7: I do not know how to speak. I am too young. But the LORD answered me, "Do not say, 'I am too young.' To whomever I send you, you shall go; whatever I command you, you shall speak."

Is there anything else you'd like to share?

The early 1960's were a time of great cultural change in our country, though I'd guess that most of us, adults, and young people, couldn't imagine just how major the changes would be. The beginning of the Peace Corps in 1961 awakened Americans, myself included, to the needs of the broader world and invited our generation to volunteer service. Vatican II attempted to bring the Church into dialogue with the contemporary world, which took place intermittently from 1962-1965. The Hippie Movement began in 1964 along with the anti-war protests and much newly public activism. My reading of Maryknoll Magazine and the words of John Kennedy also played a part in my decision to enter the convent. "Ask not what your country can do for you," he challenged, "ask what you can do for your country." I asked myself what I might do for God, for the Church, and for the people I'd be serving.