Self Help Graphics & Art fosters the creation and advancement of new art works by Chicana/o and Latinx artists through experimental and innovative printmaking techniques and other visual art forms. We are an organization rooted in community; and since 1973, have been at the intersection of arts and social justice, providing a home that fosters the creativity and development of local artists. We establish international collaborations and partnerships nation-wide and create world-wide cultural exchanges.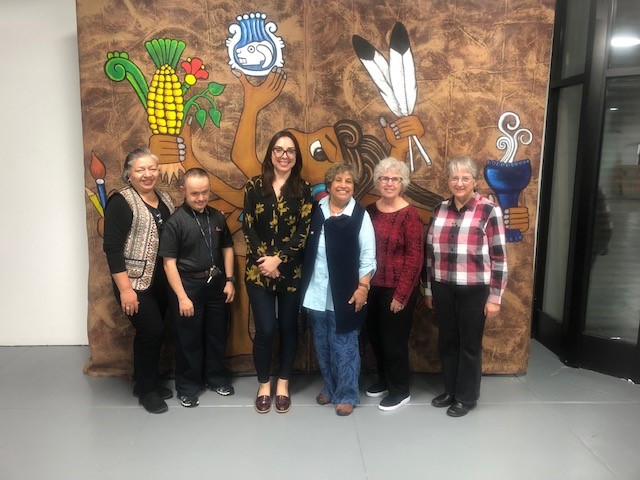 ---
Part embassy and part ambassador, an East Los Angeles print studio and community center run by a Franciscan nun became an iconic incubator, clubhouse, and epicenter for Chicano Art—and for a civil rights movement that reshaped a region, and beyond.

"Culture Power: The Importance of Sister Karen Boccalero & Self Help Graphics & Art in Los Angeles History" By Jeremy Rosenbery, with assistance by Tomas Benitez & Reina Alejandra Prado Saldivar for the Studio for Southern California History https://www.lahistoryarchive.org/resources/Boccalero/essay.html In 2004, a modern branch of the East Los Angeles library opened.1 Located in East Los Angeles' new Civic Center complex, the Library features a monumental, bifurcated glass mosaic mural composed of overlapping color streaks of vibrant yellows, reds, oranges, and blues.

Titled Our Legacy: Forever Presented, and created by the artist José Antonio Aguirre, the artwork also prominently incorporates images of a dozen political, social, and cultural figures vital to the area's history. Congressman Edward Roybal, L.A. County Supervisor Gloria Molina, boxer and promoter Oscar De La Hoya, and actor and literary activist Edward James Olmos are among those depicted on the mural's west wall. Labor leaders Cesar E. Chavez and Dolores Huerta make the east wall, as do journalist Ruben Salazar and artist David Alfaro Siqueiros. At the top of the east wall, between Chavez and Sisqueiros and above a guardian angel and Mesoamerican symbols, is the head-and-shoulders profile of a twentieth century Franciscan nun. This nun was born in Globe, Arizona, to a family of Italian heritage. She was raised in East Los Angeles, in a hillside home. Her birth name was Carmen Rose Boccalero, but she's far better known as Sister Karen Boccalero. Or, simply, "Sister Karen." Boccalero smoked cigarettes, drank coffee and sometimes El Presidente brandy. In keeping with her order's norms, she wore pants, not a habit, and kept her hair bare, not covered. She cursed, used sticks to chase away rats, and a mutt named Jacoby who twice got hit by cars.

Most of all, Boccalero was the cofounder, artistic director, and longtime visionary behind the iconic Eastside cultural institution, Self Help Graphics & Art. Created in 1971, incorporated in 1973, and moved twice before in 1979 finding its longtime 15,000 square-foot, two-story location at 3802 Cesar E. Chavez (neé Brooklyn) Avenue, Self Help Graphics & Art was, on one hand a few-frills print studio and community center. It is now located in Boyle Heights at 1300 East First Street, having moved there in 2011.

On the other hand, SHG was incubator, amalgamator, clubhouse, flash point, and rebellion point to Chicano Art, which is a charismatic homegrown blend of contemporary agitprop depictions of contemporary barrio life and pre-Columbian history and mythology that ultimately became an internationally recognized branch of art history. A who's who of Eastside Los Angeles artists-gone-global has been affiliated in some way with Self Help. A short list includes Gronk, Patssi Valdez, Willie Herron, Harry Gamboa Jr., Frank Romero, Carlos Almaraz, Eloy Torres, Gilbert "Magu" Lujan, Beto de la Rocha, Los Streetscapers, Roberto "Tito" Delgado, John Valadez, Leo Limon, Daniel J. Martinez, J. Michael Walker, Richard Duardo, Gil de Montes, Barbara Carrasco, Linda Vallejo, George Yepes, Diane Gamboa, Salomon Huerta, Chaz Bojorquez, and Vincent Valdez.

SHG – in particular the artists affiliated with the place – would also famously reanimate el Día de los Muertos—the Day of the Dead—to such a popular extent that by 2010 a professor wrote a book calling it the new major U.S. holiday. SHG opened during a particularly dynamic and turbulent era of protest, demonstration, and turmoil. From the Vietnam War to Woodstock to Watergate, from assassinations to legislation to civil rights efforts at Selma, Stonewall, and the Silver Dollar Café, Self Help almost couldn't help but be caught up in fundamental social, philosophical, political, economic, ethnic, religious, and sexual orientation issues, as well as ideals surrounding land development and use, identity, inclusion, and exclusion.

To put it this way: This was an age when the artist Charles Almaraz became the artist Carlos Almaraz. Self Help Graphics was ambassador and embassy, a product to some degree of its founder's vision as well as a product of its times. It was the hyper-traditional and the avant-garde, the establishment and the radical fringe. Self Help Graphics was el movimiento—the movement—and then a living monument to it. It was part of a greater struggle, and it faced a daily struggle. "They were just trying to have a space to do the work and keep the doors open," says academic Reina Alejandra Prado Saldivar, who has researched and written about SHG and served as the organization's archivist from 2000-2001.

Self Help Graphics' artists and artworks were also an emissary from East Los Angeles to the rest of Los Angeles, and to Latino communities elsewhere and the provider of a message both highly personal and somehow universal enough to travel successfully from South Africa to Scotland; from Honduras to Germany; from Mexico City to Madrid.

"A national model for both community-based art making and art-based community making," wrote Chon A. Noriega, director of the UCLA Chicano7 Studies Research Center, and since 2002, a partner organization to SHG.

"A model for cultural intervention and community building in Los Angeles," wrote Kristin Guzmán, author of Self Help Graphics & Art: Art in the Heart of East Los Angeles.

The meaning behind the first part of the moniker was self-evident. "Sister Karen called the studio, 'Self Help' because that's what she expected people to do," said Wayne Healy, an artist who made prints there.

The meaning behind the second part of the moniker – that turned out to be more open to interpretation. Tomas Benitez was Executive Director from 1997 to 2005. "They got a lot of inquiries about jobs and training for printers," Benitez says of the first couple of years. "So a lot of folks thought it was a social agency. They decided to add the "& Art" at that point." In March 2011, SHG departed from its longtime, iconic home – a building that had at one point been red-tagged for post-earthquake teardown. The organization moved three and a half miles west and into an airy and shared warehouse space located across the street from a brand new Gold Line subway and light rail station in the Boyle Heights neighborhood of the City of Los Angeles. During the six years previous, SHG had staved off five years of crisis that included going broke, padlocking its doors for three months, purging the former leadership and bringing in new board members and staff, having its home since 1979 sold, and seeing its $1-a-year rent raised significantly and its square footage cut substantially.

Since its inception, keeping SHG alive was a struggle—as it is for the great majority of non-profits (and many for-profit enterprises). Sister Karen died in 1997. The last of her two cofounders died in 2001. Still, SHG perseveres. Artists who started there have joined the canon. Musicians who played there have become legends. A generation of children received art lessons. Meanwhile, L.A. has a Latino mayor for the first time in more than a century, while East L.A. is run by a Latina county supervisor, and the Los Angeles County Sheriff's Department by a Latino—a law enforcement progressive who calls himself "Sheriff Moonbeam."

In a 1978 interview with the Los Angles Times, Boccalero spoke about the good she thought SHG could do. She cited teaching school kids "the cultural advantages of being Mexican American" and "introducing them to certain artistic disciplines where they can make a living." She also talked about SHG's limits. "I'm not suggesting we're educationally equipped to deal with all the poverty, drugs, and crime in the community," she said, "but we can take an important first step." Later during the interview, the Times asked Boccalero, "What qualifies you to deal with the challenges of the barrio?" Boccalero's reply? "I don't know anyone is qualified, but someone has to try."