Tell us about your growing up years and family.
My family story begins with my paternal grandmother, Bertha, traveling from Ireland with her brother, Daniel, on the Titanic that fatal night of April 15, 1912. Both in their 20's, my grandmother was able to get in one of the last lifeboats but tragically her brother drowned, and this will be part of our family story for generations. My grandmother was a woman of deep faith and passed her faith on to our family. My dad worked in a factory in Detroit and my mother cared for all seven of us children. From eldest Pat, Dick, myself, Danny, Mike, Patrick, and Tim; my sister and older brother are already in heaven. Our family has been blessed with many amazing in-laws, nieces and nephew and grand-nieces and nephews. We grew up in Allen Park, Michigan where my mother lived until her death at the grand age of 87. My parents were Irish, Catholic, loving and altruistic. My dad was a union man, advocating and participating in demonstrations for workers' rights; my mother advocated for those in need physically or emotionally in our neighborhood and beyond. When she was in her 80's, she was learning the computer, writing letters to the editor against the war in Iraq and still assisting at the polls during elections.
As siblings, we all chose professions of service and advocacy, following the example of our parents who continue to be with us in spirit every year as we gather for our family reunion. I flew to Boston to enter religious life at the age of 18 and never had the comfort of living near them again, until my father's two year prognosis for recurring cancer. No matter where I lived through the years in Boston, Ireland, Taiwan, Tanzania or California, every Sunday my dad wrote a letter to me with family news and visited me in Taiwan and Tanzania. My mother was afraid to fly, so missed these memorable cultural experiences. I am most grateful that I was able to live near my family during the last years of my parent's lives and be with them and family when they took their last breaths. My mother and I were best friends and her last words to me were: "When you need me, I will be here," gently touching her heart. To this day, remembering my mother's loving blessing evokes both tears and deep down consolation.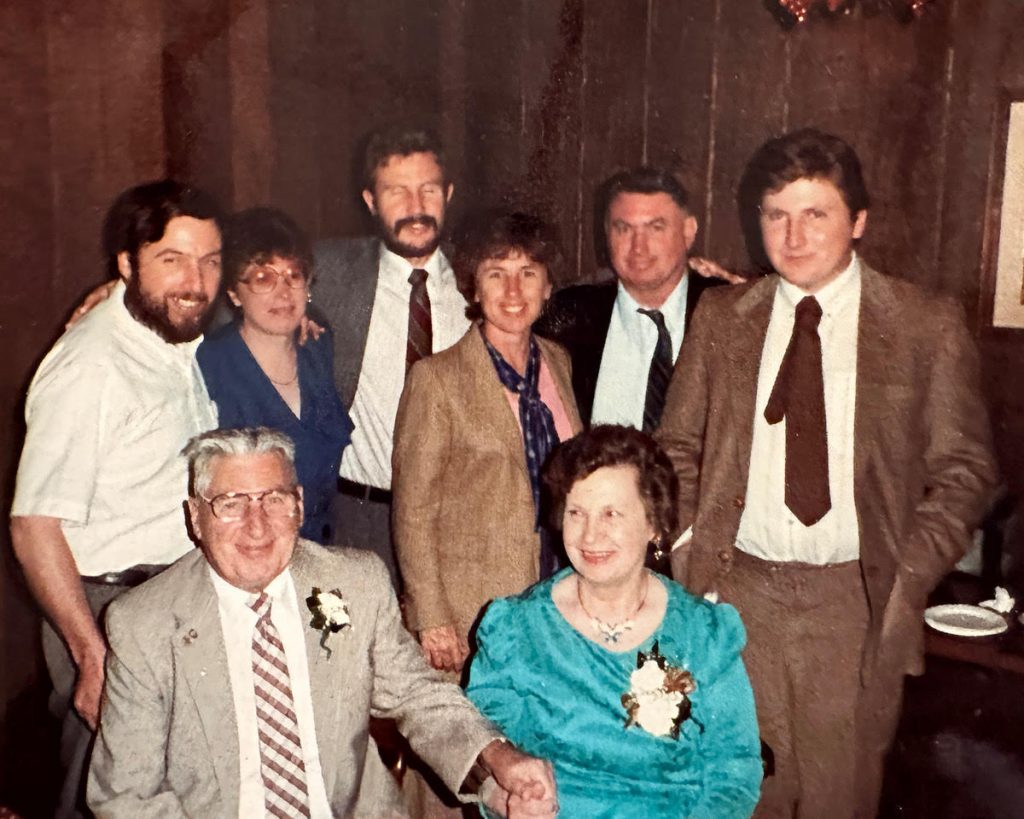 Please share a favorite story about your early community service.

My religious life has been doubly blessed by being a member of two Congregations, first as a Medical Missionary of Mary for 27 years and then as a Franciscan Sister for the past 33 plus years, celebrating my 60th Jubilee this year. I will share one of many favorite stories as an MMM and as a Franciscan.
When I served in Tanzania as an MMM nurse-midwife, I had many nights on call for difficult deliveries. I would be awakened by a nurse and security guard, calling me through my bedroom window. With our flashlights and the light of the moon, the sound of hyenas crying out in the distance, and watching for snakes, we walked over to the hospital. Did I mention I am afraid of snakes? The guard carried a long stick to help us keep safe, no matter what happened on the way. In the small delivery room with an oil lamp for light, I often encountered deliveries that were way beyond my training. In those moments, I would take a few deep down breaths, pray and plead to Our Midwife God to guide me through a safe delivery to hear a crying baby and see a happy mama! SHE never, ever let me down!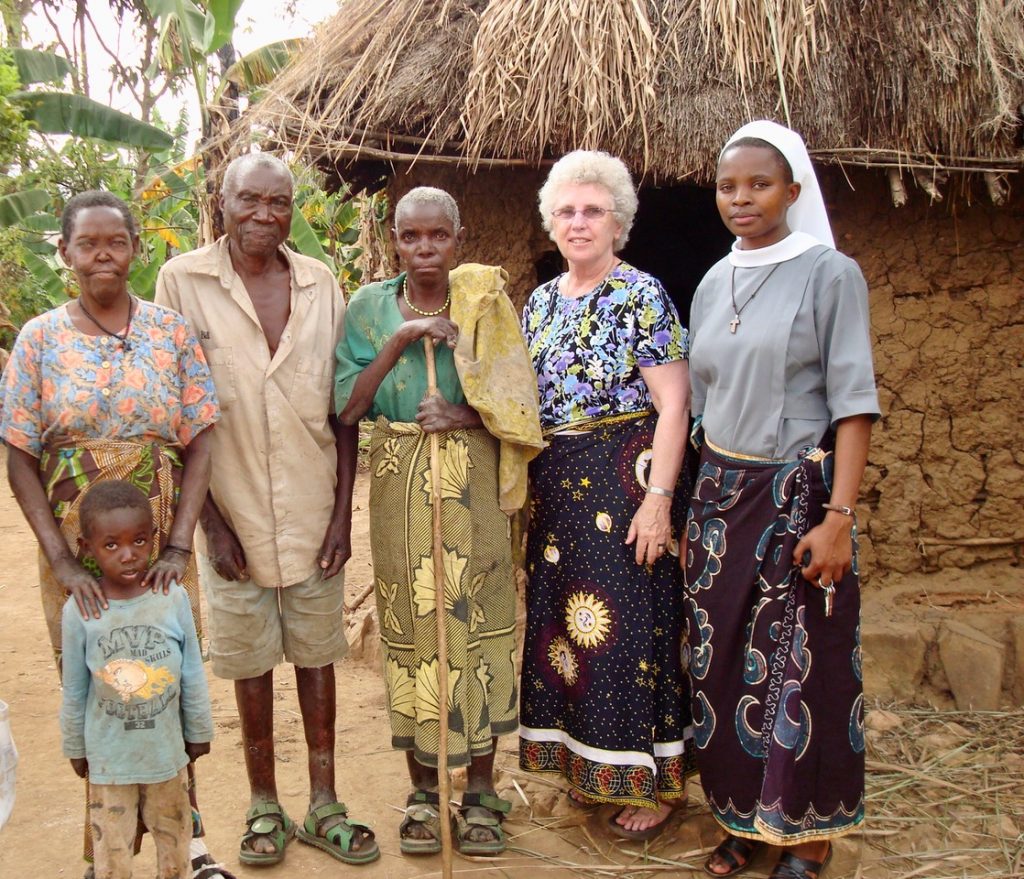 In 2007, Sister Margie Wolf OSF, our long-time New Yorker, Franciscan missionary in Tanzania, asked me to share my experience of being a Clinical Psychologist and Novice Directress with our Tanzanian Sisters, the young Tanzanian women preparing to make vows and the Friar postulants from many African countries. I returned to Tanzania 12 more times sharing many topics, including Franciscan spirituality, psychology and leadership. Recently, Fr. Ovan Mengue, Vicar General of Rulenge-Ngara Diocese in Tanzania asked me to preach the Annual Retreat for the priests in the diocese. How could I have imagined that my first call to Africa as a little girl would become a lifelong call and blessing as an MMM, Franciscan and through the Tanzanian priests?

Why did you decide to become a sister?

My call to religious life began when the Sisters of Holy Family of Nazareth taught us in grade school to save our allowance for African children who did not have enough food to eat; it sparked the desire in me to go there and help them. After school I would often ride my bike to our church which was a mile away for Benediction. I felt God's presence deeply and felt drawn to keep returning. In high school, I was socially active going to football games, dances, studying, co-editor of our school newspaper and having fun with my friends. At the same time, I could feel God gently pulling my heart-strings toward religious life so I decided to enter the MMM's and told God that She better call me louder or I would return home.


How do you share your Franciscan values and spirituality now?

S. Sheral Marshall and I have lived together for many years and recently moved from the Bay Area to Arroyo Grande to "retire." In truth, Franciscan Sisters never retire from advocating for the marginalized and disenfranchised. Together we reflected on the story of St. Francis' intense fear of those living with leprosy. Francis always ran away from them but one day he felt compelled to turn back around, walk toward the man, look him in the eyes and embrace him. Their embrace became a transformative life-changing encounter influencing the rest of Francis' life. Today, acknowledging the fear of developing Alzheimer's in ourselves and others who are aging, we want to follow Francis' example. Rather than fear Alzheimer's and whisper about it, we want to face it by learning more and sharing more openly about Alzheimer's. We live close to Santa Maria, California where 77.7% of the people are Hispanic and Indigenous; they are one and one half times more likely to develop Alzheimer's disease than Caucasians. We know that the earlier symptoms are recognized, diagnosed and treated the possibility of living with quality of life lengthens. They are our neighbors and we want to share this awareness with them and others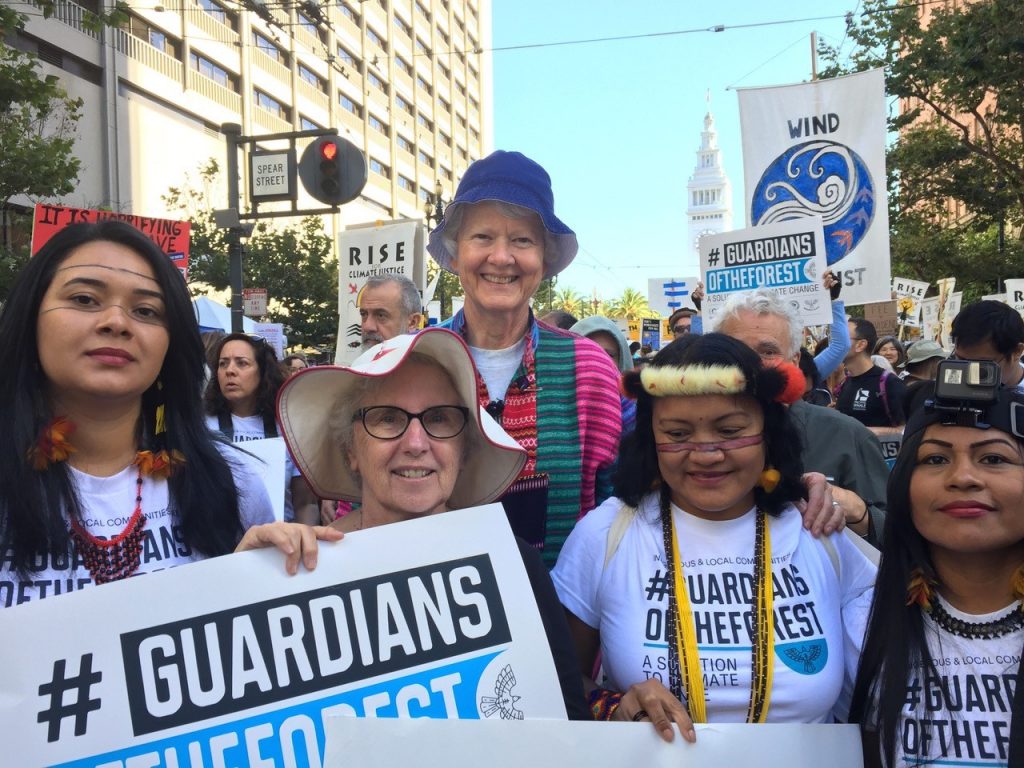 What would you like us to know about being a Franciscan?

Francis's example of embracing the person living with leprosy inspires me to continue advocating for those on the margins and disenfranchised; Clare's life of contemplation and loving service inspires me to balance my time of loving service with time for prayer; Magdalen's example of persevering no matter what difficulties she encountered by trusting that God would provide, inspires me to persevere through obstacles and setbacks by repeating her mantra: God will provide!

Please share a favorite quote or verse.

"When Elizabeth heard Mary's greeting, the baby in her womb leaped and was filled with the Holy Spirit." Luke 1:41. As a midwife, the joyful encounter of Mary and Elizabeth, both pregnant with life, encouraging each other has always inspired me. When I reflect back on my life, I have been a midwife assisting mothers through childbirth, a midwife assisting transformative encounters with others as a clinical psychologist and a midwife assisting in the birth of Franciscan Tanzanian Leadership.


Expanded Life Journey by Maureen Sinnott
There is no one that I loved more than my mother, Mona. She was the heart of my life, and when she was in her 80's and giving honorable mention to her many wrinkles, I would reply: "I love every one of your wrinkles; they are beautiful!" She would respond with a radiant smile and a twinkle in her eyes. She was so full of life that even remembering being at her death bed with my family in 2005 brings tears to my eyes. Her last words to me were: "Reen, when you need me, I will be here," as she touched her heart. Gazing at the reflection of my own 80-year- old wrinkled face in the mirror, I feel overwhelming gratitude for all the relationships I have been blessed with, from within my mother's womb until now. Every wrinkle reveals a story of joy, grief, and every possible in-between feeling in my relationships with those whom I have loved and who have loved me.

After grade and high school, I asked my parents if I could enter the convent; both times they refused saying I needed to get further education in case I left. So, I began nursing school and began dating a very like-minded and kind young man, which motivated me to find out if I was really called to religious life or marriage. Then I decided to join a community and expected God to either call me a little louder or I would return home. I chose the Medical Missionaries of Mary (MMM) because they were Irish, served in Africa in health care, wore shorter skirts and veils that revealed more hair, than other nuns. Does this sound like vanity? My parents agreed to let me try it out, and later told me that they expected me to return home within the year.

I flew from Detroit to Boston and joined 14 other young women to begin this adventure. By first profession, there were only 5 of us left and we were probably the ones, who broke the most rules, of the bunch. We have remained faithful friends for over 60 years! After profession, I graduated from Catherine Laboure School of Nursing, flew to Ireland to study Midwifery, then was assigned to Taiwan for 8 years. The first two years were spent studying Mandarin in Hsinchu, with other young sisters and priests from around the world, which was enriching, inspiring and fun! Our MMM community was far from there. It took a long train ride followed by a long bus ride through beautiful mountains to our small hospital in Taitung. Three older MMM's from Ireland had already been there a few years and welcomed me with open arms, and gratitude that I would be taking turns on night duty. I whole-heartedly embraced the Taiwanese culture and assumed I would live there for the rest of my life. The friendships, experiences and enculturation enchanted me and a highlight was making my final profession in Mandarin. Besides midwifery, I helped a couple, Chris and Rollie Hopgood, adopt a baby, Mei-Ling, which took eight months to get through all the red tape. Finally, a lawyer for the Hopgood's had to officially appoint Fr. Peter Cheng and myself to apply for and adopt Mei-Ling by proxy for them. Trust me, I felt like I was her mother after caring and loving her for eight months and found it very difficult to let her go. It would take a book to tell the story of her life and she eventually wrote it, called Lucky Girl. Then one of the Chinese priests asked me to visit three prisoners on death row for murder, and take them bibles. I began visiting them; they began reading their bibles; the Holy Spirit hovered over them; and all three were converted and baptized. Not long after they were baptized, they were executed, and I grieved them as friends and still have a photo of them in my prayer book.

Soon after this, I attended our General Chapter in Rome where it was decided that we needed to close our Taiwan mission because we did not have enough Sisters to serve in Africa, Brazil and Taiwan. Daughters of Charity took over our hospital and leaving Taiwan and my friends was agonizing. My Dad flew to Taiwan to travel home with me through Hong Kong, Thailand, India, Greece and all over Europe in a van with my good friend, Shirley Smith MMM (who had joined our Taitung community a short time before), my brother, Danny, his wife Judy, their three young children and my 18-year-old brother, Tim. This was an unforgettable family adventure!When I returned to the U.S, I was asked to prepare to be Novice Directress and attended Duquesne University in Pittsburgh, graduating with an M.A. in Religion and Personality. However, at that time there were no novices, so I was assigned to Tanzania, East Africa. My ministry continued to be midwifery and I also began learning on the job, how to give anesthetics during surgery, and thankfully, everyone survived! My Dad visited me in Tanzania and was in awe of the African culture and the wild animals, zebras, giraffes and monkeys as you drove down the dirt road back in the late 70's. Most of all, he was touched by how warmly he was welcomed by the diverse tribes, especially by the Masai. One day while visiting a priest friend of mine from Detroit, who ministered in a Masai parish, we were invited to stay overnight by a Masai family. My dad slept in a mud hut with men and I slept in another mud hut with the women. My dad and I felt so honored to be invited by them. When young women began to join MMM's again, I was called back to the U.S. as novice directress and was elected to our provincial council.

In the early 80's, we had a Congregational Formation Meeting in Kenya. I flew to Tanzania and joined our Tanzanian sisters, driving to Kenya for the meeting. Unfortunately, the Sister driving fell asleep at the wheel. I was sitting next to her and flew over her and out her window to the roadside. I was hospitalized in Kenya and X-rays showed a hairline fracture of my neck. The doctors kept me lying flat on my back with a neck brace for a few weeks, then had me flown by stretcher to N.Y, where I was hospitalized for another few weeks. I finally returned to Boston, and my mother, sister, and niece came to visit me by train, to make sure I was fully recovered.

After being novice directress for one term, I was asked to do a second term. I agreed and asked to study psychology at the end of the two terms. The General Council in Ireland agreed to this, but when I finished the second term, the congregation had decided to focus on the medical model of healing, rather than to include spiritual direction and psychology. After discerning with my spiritual directress for some months, it was clear that I had no desire to leave religious life, but did feel a deep call to help those with mental health issues, especially those with major problems who could not afford therapy. This call had begun when I lived in Taiwan and many people with mental health issues would come to me for help.

To make a long story short, I decided to leave MMM's, work full time as a nurse at McLean Psychiatric Hospital in Massachusetts, to support myself. Eventually I applied for a Ph.D. program at California School of Professional Psychology, now known as Alliant International University. I was advised by The Vicar of Religious in San Francisco to ask the Franciscan Sisters in Redwood City to live with them. They welcomed me and within a few months, while Sister Linda Gonzales was giving me a perm, she asked if I had thought of joining their congregation. A few days later, another Sister asked me the same question, which prompted me to ask God: Is this really You calling me here? In dialogue with the provincial and community, I began taking the necessary steps to enter and be professed as a Franciscan by taking classes at Franciscan School of Theology, learning more about the Congregation, and meeting more Sisters in other areas. At the same time, I was studying psychology at CSPP and working full time as a nurse at a nearby psychiatric hospital. Eventually, I was professed as a Franciscan and later graduated with a Ph.D. in Psychology.

In 1992, my Dad was diagnosed with cancer again with a prognosis of two years. He came to visit me in California and soon after, I moved back to my hometown, Allen Park, MI to be closer to him. I had joined the MMM's when I was 18, missed my family for many, many years and now was back with my Dad during his time of preparing for death. I was blessed to be with my family as he took his last breath and I still miss his love, affirmation, and encouragement by writing me a letter every Sunday afternoon, no matter which country I was living in. I had already begun a private practice and it quickly developed into a full-time, thriving, practice. I was also active in various social justice groups and a board member of Pax Christi, Michigan and Freedom House (for Refugees and Survivors of Torture). We went to many demonstrations against war and other issues in Detroit, Washington DC and other states. No matter how busy, I made quality time for my mother and when she died in 2005 I experienced the greatest time of grief in my life.

After my mother's death, I was called back to California, where I continued practicing psychology at Counseling Center, Catherine Center for formerly incarcerated women, Hope House for formerly incarcerated women, Francis Center for undocumented families, San Mateo County Jail, and served as a board member on National Alliance of Mentally Ill (NAMI), St. Vincent de Paul Restorative Justice Advisory Board and San Mateo County Mental Health and Substance Abuse Commission. During these years, I also returned to Tanzania 12 times to facilitate seminars on Franciscan Spirituality, Psychology and Leadership for our Sisters and the Franciscan Friar Postulants. Tanzania will always have a special place in my heart because I served there both as an MMM and a Franciscan. I hold heart-felt memories of both of my communities, trying to live the Gospel and incarnating the Visitation of Mary and Elizabeth, both pregnant with life, encouraging each other, has always inspired me. I also worked for some years with the Sisters of Mercy doing assessments and consultations until I was elected to our provincial council for four years.

I thank God for the blessing of living many years with Sheral Marshall, especially throughout the Covid pandemic, while moving from the Bay Area to Arroyo Grande, and retiring from our full-time ministries. Of course, as Franciscan Sisters, we never really retire because we continue to advocate and pray for others until our last breath and then in heaven. All I know is that I have too many stories to tell, too many special relationships to reminisce about, and too little space to even skim the surface.
show less