Tell us about your growing up years and family.

I grew up in a suburb of Los Angeles in a neighborhood full of young families like ours. I have very happy memories of my growing up years. We had a  lot of fun, riding our bikes all over, riding horses, playing tennis, swimming, roller skating, etc. I am the oldest of my two brothers and one sister. As I get older, I realize and am thankful each day that I grew up with very loving parents and wonderful siblings.  From first grade through high school, I was educated by the Franciscan Sisters of Penance and Christian Charity, so I knew the community I entered from a very early age.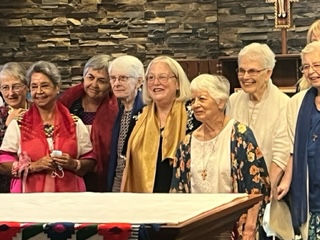 Please share a favorite story about your early community service.

I was a young novice, sent to teach school in Washington for a few months as part of my preparation for ministry. I already had my teaching credential, so I taught in our elementary school. The principal, Sr. Josephine, asked me one day if I would help prepare a group of eighth grade boys for a talent show. This sounded like fun, so I eagerly accepted. In  consultation with the boys who were willing to participate we worked out a dance routine that was the hit of the talent show. Several years later I was back at the school for a celebration and one of the boys, now a college student, came over to me and told me that because of that experience in eighth grade he became aware of a talent for dance and was now part of the university ballet company! That meant so much to me. Of course, the meaning of education from the Latin word, educere is to DRAW OUT OR BRING OUT.  That is my favorite part of education.
Why did you decide to become a sister?

I was educated by the Franciscan Sisters from first through senior year in high school. One quality I noticed along the way was how the sisters always seemed to get to the "heart of the matter" re: any issue that came up. I linked it to their vow of poverty and a sense of freedom that was a gift of this vow. I decided that I wanted this more than anything. Of course, I was just a young teenager at the time and it was to be several years after this "moment of grace" before I entered the convent. 
What would you like us to know about being a Franciscan?

We are here not to live for ourselves, but to live for others, to join with all who desire to live the Gospel and create the Kingdom of God here on earth in whatever way we are able to do this. I grew up in a time and culture which was very altruistically oriented. Organizations such as the Peace Corps, Catholic volunteer organizations, etc. were very popular. This helped influence us to think in a more pro social way as well.
How do you share your Franciscan values and spirituality now?

I lived in the Sacramento area for 29 years; prior to that I lived in Davis for 9 years. While here I have been involved in parish ministry, education to become a psychotherapist, and counseling. Prior to this I taught school for several years, then became a librarian specializing in law and medicine. Wherever I have been I try to share my Franciscan values through my manner of presence, treating everyone with dignity and respect, both responding to and reaching out to people in need, and sharing life with my  sisters in community. 

Please share a favorite quote or verse.

"THIS IS WHAT YAWEH ASKS OF YOU AND ONLY THIS, TO ACT JUSTLY, TO LOVE TENDERLY AND TO WALK HUMBLY WITH YOUR
GOD." MICAH 6: 8

Is there anything else you'd like to share?

I am so grateful to God for giving me the grace to listen to and respond to His invitation to become a Franciscan Sister