Tell us about your growing up years and family.
I was born in Iowa, and I was the oldest of 14 children. When I was three, my parents, who were farmers and ranchers, moved us to Northeast Nebraska where we grew corn, soybeans and raised cattle. We all had chores, there was plenty to do! We had a large garden and we raised pigs and chickens. I went to school in a one-room country school until third grade. The sisters were always a presence in my education. They were my teachers for catechism in my early years and, when went to St. Mary's High School, they were the teachers and administrators. I dreamed of going to Europe one day, especially France, and maybe becoming a baker. I couldn't figure out how I would ever get to Europe, but I knew I could get myself to Denver. After graduation, my best friend Colleen and I went to Denver to enter the convent!

Please share a favorite story about your early community service.

Soon after entering the convent, I went to college and earned my undergraduate degree in English from the University of Colorado and my master's degree in English Literature in 1991. During this time, we also taught catechism at local parishes, and I did my first semester of teaching at St. Francis Indian School in South Dakota. It was during a renewal process that I transferred from the Denver Province to St. Francis Province in Redwood City. I got a job at Stanford's bookstore for nearly a year before finding a job teaching job at Serra High School in San Mateo. I taught high school English for 26 years and loved teaching. The students required a great deal of energy, and, in turn, they charged me back up every day. It was both a challenge and a blessing.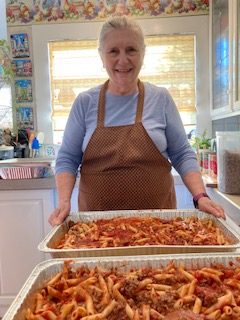 One day our Provincial, Michele Mangan, surprised me by asking me to learn German! I was 48 and terrified that I wouldn't be able to achieve that skill. But she had a plan and sent me off to the Goethe Institute in Goettingen, Germany, where I would live and learn. Because the sisters in Germany lived a monastic life, she advised me to visit the sisters often. Michele wanted me to be immersed in the culture in order to fully learn the language. I spent nearly two academic years at the Institute and achieved language fluency enough to read, write, and speak, though my German doesn't race off my tongue as quickly as my English. Over a two-year period, I was able to work at the mission in Tanzania. My assignment lasted nearly 12 months stretched out over four visits. I taught English to the young sisters there. They needed English for higher education. Unfortunately, I injured my back and had to return home to Redwood City. In 2003-2004, I was one of the last members of the team assigned to clear out our personal property as part of the sale of the Mother House in Redwood City, in preparation for the transfer to the new owners. I was amazed at all that we had amassed! After all, we were women religious vowed to a simple life. My sister Peg, her husband Larry, Sister Linda Gonzales, and I packed up the last of our goods and made several trips down the hill to our new home on King St., where we still live today. We still have the popcorn popper.

Why did you decide to become a sister?

I was led to religious life. I believe I was called and, fortunately, I said yes. I chose the Franciscans because they were the only women religious, I was familiar with. They were well-educated and were able to influence the lives of others in positive ways. They were very visible in my local community, running the schools and hospitals. They were smart and compassionate.

How do you share your Franciscan values and spirituality now?

There are four members of our Assisi Community in Redwood City: Sisters Marianne Rasmussen, Linda Gonzales, Deborah Lockwood, and me. I still work part-time at the province office. However, what I find most rewarding are our efforts to reach out to the homeless people and families. We prepare and deliver meals for approximately 30 people each week in conjunction with Catholic Workers' programming. These weekly encounters with the homeless population are the most valuable and remind me of the simple lifestyle that St. Francis lived and remains a very prominent element of our "Rule."

What would you like us to know about being a Franciscan?

I love working with our Associates. I see their goodness and their Franciscan hearts. I see it clearly now. Sharing our lives is a gift with a return, one hundred-fold! Living the life of a vowed religious with our Associates who are also living our charism; they are accompanying us and we them. Two sides of one coin: Living the Gospel life.

Please share a favorite quote or verse.

"Remember your journey's beginning and follow it through to the end." St. Clare of Assisi

Is there anything else you'd like to share?
There's is yet another chapter ahead. I don't know the entire 'plan,' but, nevertheless, I am preparing for it and, more importantly, I am welcoming it.