Tell us about your growing up years and family.

I was raised in Lincoln Heights in a different time, some say a better time. I used to play outside unsupervised 'til dark and ride my bike around the neighborhood. I remember walking to and from school and feeling safe. My grandchildren cannot do that today. My children are apprehensive and vigilant. They drive their children to school and, as parents, they ponder upon education, sports, society, community, the company their children keep, and much more. However, the darker side of the seemingly freer days of my childhood was sad. I remember that I couldn't share my real background. My parents were Native American. My mother was Hopi, and my father was Yaqui and yet they had to destroy their tribal ID cards and claim their Mexican American lineage instead. I remember them being afraid for our well-being, warning us not to tell our friends or school staff the personal details of our heritage. Today, however, is a different world. My daughter sent away for a comprehensive ancestry breakdown to find out exactly who she is. Society is changing, so much so that I was able to become an advocate to improve the quality of life for Native American children and their families. I wonder sometime, "Is life better or worse than it was 50 years ago?" Pew Research Center is asking this same question for the first time in their annual global attitudes survey. The results are not certain. What I witness is that people are more stressed these days, the news cycle is 24/7, we're hooked on our technology, and everyone is so busy.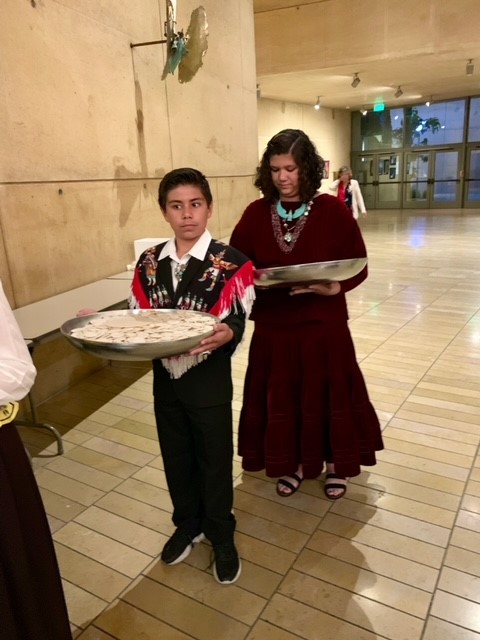 Please share a favorite story about your early community service.
Indigenous people have a sacred relationship with Mother Earth much like St. Francis. We are not here to claim but to steward the earth. We are a welcoming people and endeavor to heal ourselves and other members of our community. As an American Indian and a Franciscan, I have helped to gather people to make changes in the Los Angeles Unified School District to ensure access and resources for American Indians. And after asking how it is that American Indians do not have a voice in the diocese considering that the Los Angeles Cathedral is situated on Tongva land, we used and continue to use our collective voices to work with the Office of Ethnic Ministry in the Archdiocese at the parochial, regional, and national levels to carve a place for indigenous cultures and communities.

Why did you decide to become an Associate?

When I was a teenager, I enjoyed praying and sought out like-minded people to work and share joy with. Recognizing my chosen lifestyle, Sister David, a Dominican, approached me to ask if I would consider my future in her community. It took me a year daily masses and lots of prayer to discern that I was being called to motherhood at that time. Rolling the camera forward a few decades, I met Yolanda Duarte, as associate of the Sisters of St. Francis. Together, we worked in Kateri and with the Office of Ethnic Minstry to improve the quality of life of American Indians. A Kateri Circle is composed of faithful Catholics, non-Catholic Christians, and seekers who desire to be in community with one another through a lifestyle of prayer, service, and worship. Yolanda introduced me to the Franciscan community, and I came to understand how the Franciscan charism and my cultural and spiritual roots are parallel. Laudato Sí tells us that "It is essential to show special care for Indigenous communities and their cultural traditions." American Indians view land as a gift of God and from our ancestors who at rest. It is a sacred space with which we need to interact and maintain our identity and values.

How do you share your Franciscan values and spirituality now?

I am retired. It's a time for me to focus on my spiritual journey. The discussions with my associates feed my soul. We talk about Saint Clare and Saint Francis, who loved animals and incorporated them into Christian celebrations, including Christmas. It came to my attention that there is a divisive group of people on social media shaming American Indians who celebrate Christmas. I speak out against this ignorance through my work with the Catholic Church to increase awareness of the needs and practices of Native Americans in the local parishes and diocese. For example, I share that the Winter Solstice was celebrated by tribes long before they started celebrating Christmas. The winter solstice is celebrated before Christmas Day (December 21-22) through ceremonies, dances, festivals, prayers, sunset bonfires, and sometimes a Powwow. Many tribes knit their Indigenous culture with Christian traditions. Most importantly, my family is my center and core support for my activism through sharing pride for our ancestry. My three beautiful children, who have given me five grandchildren, have always been a gift, a true joy, and a blessing.

What would you like us to know about being a Franciscan?

As a Franciscan, I have never been stronger in my faith. Everything I do means so much more when grounded by a spiritual path.