Tell us about your growing up years and family.

I was born in Sacramento, California. I was an only child and I attended public schools from kindergarten through sixth grade. After that, I attended St. Francis High School in Sacramento and entered the Community right after graduation. My mother was very ill for most of my childhood and passed away when I was in the sixth grade. My dad, a construction worker, converted to Catholicism a few years later and managed to run the household with help from housekeepers.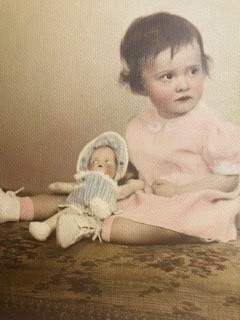 Please share a favorite story about your early community service.

I lived at Grace Day Home and taught the fifth grade at Holy Angels School, which was on the same property. I loved teaching! My first year-and-a-half was an exercise in change. In the middle of the year, I was transferred from the fifth grade to the seventh grade, and then to St. Francis High School. The result was that I made a lot of friends in short span of time!

Why did you decide to become a sister?

I was very much attracted to the Franciscan charism, and I loved the sisters at St. Francis High School and felt called to the Community. Sisters Ursula, Teresina, and Miriam were very influential as we often engaged in long conversations that were full of life and lots of energy.

How do you share your Franciscan values and spirituality now?

I was a teaching Principal at Alverno High School in Sierra Madre when I was appointed as Novice Director. I served for five years. After I resigned from that position, I moved up to the Mother House in Redwood City and was employed by the Archdiocese of San Francisco where I worked in the Marriage Tribunal. I worked in that assignment for over ten years. I also served on the Provincial Council for 16 years during that same period of time, so I managed to juggle both full time jobs for some years before I left the Tribunal and concentrated all my efforts on Council affairs. I belong to the Assisi Community with Sisters Ellen McCabe and Linda Gonzales and, recently, Debbie Lockwood. We have been on King Street in Redwood City for the past 14 years and, prior to that, we lived together in the Mother House at Mt Alverno. The King Street property has a guest house and we agreed to sponsor this ministry to all our visitors, Sisters, Associates, family members and members of our community in need of a place to stay.

What would you like us to know about being a Franciscan?

I don't think we have to preach but I strive to show others what living a Franciscan life truly is.
Please share a favorite quote or verse.

"Preach by example, only use words when necessary." Attributed to St. Francis "This is what Yahweh asks of you, only this: that you act justly, that you love tenderly, that you walk humbly, with your God." Micah 6:8

Is there anything else you'd like to share?

There are more people living in poverty in Redwood City than in any other city in San Mateo County. We volunteer with at least two groups preparing meals that the Catholic Worker House and the Maple Street Group deliver to the homeless community. As I write, we are gathering the ingredients to make casseroles for 145 individuals and sometimes we make hundreds of sandwiches for mid-day meals for hundreds of hungry people.